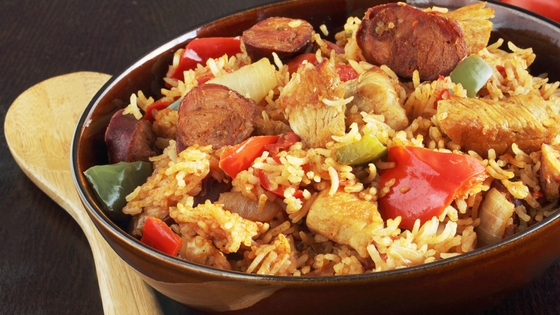 Wondering what to make for dinner? In today's post, the Liberty Pointe Blog is highlighting a few tasty dinners for you to make in your apartment. Pick up ingredients for these delicious recipes the next time you're driving around Newark, NJ.
If you haven't tasted the New Orleans classic, Jambalaya, then it's about time you do! In this creole version, enjoy a mouthful of fresh, bold, and bright flavors atop tender chicken, succulent shrimp, and sizzling sausage. With bell peppers, onions, tomatoes, and more, this recipe packs a punch of flavors that were meant to go together. All it takes is a handful of ingredients and 35-minutes of cooking time.
If you're looking for something that hits all the qualifications for "comfort food," then you're in luck with this Chicken-Macaroni Casserole recipe. Made with cream of chicken soup, shredded cheese, chicken, macaroni, Ritz crackers, and more, there are a lot of things to love about this simple dish. Check out the comments and reviews located below the recipe to see what suggestions or alterations other people have made for this recipe. Someone substituted Cheez-Its for the Ritz crackers and it sounds amazing!
Carrot and Cilantro Soup is an incredible addition to any dinner table, and will probably have an open invitation to your future dinners. The preparation is simple, the cooking time is short, and the ingredients are healthy. Be sure to add olive oil, a small onion, coriander seeds, carrots,
vegetable stock, and cilantro to your next shopping list.
To finish off our list of tasty dinner recipes, we thought there could be no better way than with this recipe for Brisket Grilled Cheese sandwiches. "A buttery, crispy grilled cheese sandwich with two kinds of cheese and leftover brisket makes one heck of a lunch," or in this case dinner! Sink your teeth into these crispy sandwiches, filled with melted cheddar, Monterey Jack, and pieces of tender, slow-cooked brisket. Just thinking about it is making us drool!
Of course, we couldn't end today's post without mentioning a few Halloween-inspired recipes. Take some time to look over these 17 Gross Looking Halloween Recipes that you can bring to the table. Some of them will make great desserts to the wonderful meals you made from today's list of dinner recipes.
Leave a comment to let us know which recipe you're most excited to make, or leave a link to your favorite dinner and Halloween recipes. Thanks for reading!