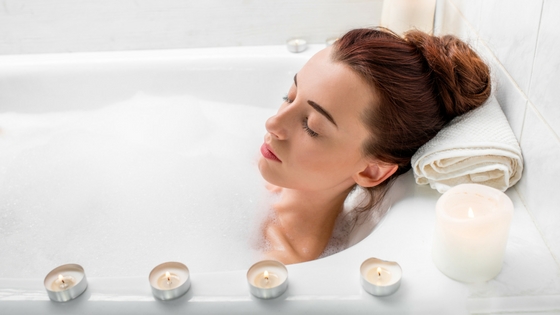 Did you know that taking a dip into a hot and steamy bath can help you improve blood circulation, relax muscles, lower blood pressure, reduce headaches, and even lose weight? Take a look at these Health Benefits of Taking a Hot Bath for more information.
At Liberty Pointe Apartments, we invite you to relax this month by enjoying some time in your bathtub. Today, we're sharing a few different things that you can do while relaxing in your bathtub.
Remember that bath time is "YOU" time. Enjoy this time alone by pulling out one of your favorite books, or a book that you've been dying to start reading! Bathtub Caddies are perfect options for this, and Amazon has a wide selection to choose from. Or, if you'd rather write, the bathtub is a great place to clear your head and focus. Check out what Udemy has to say about writing a book for tips and pointers.
These DIY bath bombs are extremely easy and inexpensive to make; you also get to select the scent, which is awesome! Whether you're deciding on bath bombs, bubble bath, or essential oils, choose something that you'll love to make your bath-going experience even more relaxing.
For many people, listening to music while taking a bath is an essential part of relaxation. While there are many waterproof speakers available, we found this adorable snail shower speaker that you have to see!
Candles are also a great idea when taking a bath, especially if you're looking for that added measure of relaxing ambiance. We recommend buying some of these Flameless Tea Lights, which flicker like a real flame without actually burning anything. When relaxing, it's best to be safe — you don't want to be worrying about open flames, especially if you have a lot of them.
We hope you take some time to enjoy a nice hot bath in your Newark, New Jersey apartment this month. Let us know what your favorite bath time activities are by sharing in the comments. Thanks for reading.